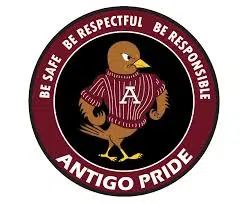 Singles
No. 1 — Aaron Petersen, LAKELAND HIGH, def . Tanner Stueck, ANTIGO HIGH, 6-2, 3-6, 6-1; No. 2 — Matt Holmes, LAKELAND HIGH, def . Alex Gray, ANTIGO HIGH, 1-6, 3-6; No. 3 — Zach Kane, LAKELAND HIGH, def . Simon Mcphail, ANTIGO HIGH, 6-0, 6-2; No. 4 — Jerome Jones, ANTIGO HIGH, def . Tom Kempinger, LAKELAND HIGH, 6-0;
Doubles
No. 1 — Jack Garcia-Anthony Holmes, LAKELAND HIGH, def. Brody Bunnell-Joe Bartletti, ANTIGO HIGH 6-4, 6-1; No. 2 — Jared McFarlane-Zach Reineke, ANTIGO HIGH, def. Gavin Thompson-Sam Berger, LAKELAND HIGH 6-2, 6-3; No. 3 — Josh Kakuschke-Alex Tucker, LAKELAND HIGH, def. Tyler Hickman-Ben Morris, ANTIGO HIGH 6-0, 6-3;
The Robins tennis team lost to Lakeland by the same score of 5-2 as when they played Lakeland earlier in the season with the duo of McFarlane and Reineke.
For singles, player Jerome Jones secured two points.
Coach David adds: "Overall, the team played well, even in the losses."
Antigo's #1 ranked Singles player Tanner Stueck closed out the evening, pushing Peterson of Lakeland to three sets. Previously, Stueck only won a total of two games, and this time he came close to winning. Jones easily won in two sets, and in his last meeting with Lakeland's Kempinger, it took him three close sets. Antigo's #2 ranked Doubles team continue to entertain with their hustle and positive attitude on the court. The pair have great chemistry and this helps them to enjoy competing together.
Coach David adds: "I told the boys before the meet that 'you never lose if you do your best' and I feel that the team did their best".