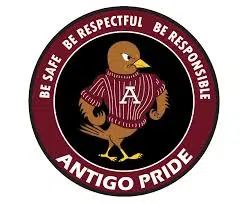 The Antigo JV team moved up to third yesterday in Lakeland. Jack Shinners shot a 73, Frank Volpentesta shot an 82, Lenny Ebel an 82, Chris Krueger a 93 and Kasey Lucas shot a 103. Coach Steve Fermanich says the team shot their best round of the year at Timber Ridge, their best one by 16 strokes.
Coach Steve Fermanich adds:
"Wow, good news, we shot our best round of the year at Timber Ridge (a 330) which was our best by 16 strokes.  Again, Jack shot "lights out". He was on a mission to shoot his best and he did just that, as did our other 3 scorers, all shooting their best so far this year. I hope that this wasn't an attrition, but a sign of what is to come. Lenny shot his best by a lot, but Frank and Chris also should be commended on their great efforts. This moved us into 3rd place all by ourselves and inching closer to 2nd. I am very happy for these young men, but now we have to finish the season strong."
Current statistics and scores can be found here.
http://www.greatnorthernconference.org/images/files/b7_file6776_8229.pdf